Birdwatching along the french coast
We live in the middle of a splendid nature area, and without much effort we have been able to observe quite a few different birds (Little Egret, Sacred Ibis, storks, owls and buzzards.) The best way to discover this area is to start in Bouin. From there you can start your discovery to the west (port du Bec or port des Champs). In the many salt pans you can see a large diversity of species. Especially during the migratory periods the number of species which can be seen here is very impressive. In autumn the sea watching from the far point of the island Noirmoutier can be excellent with south westerly wind. Terns, black tailed godwits, sacred ibises, redshanks are regularly seen birds on this island. In the pine forests of St-Jean-de-Monts you will find Bonelli's Warblers, Woodlarks, Hoopoes and Tawny Pipits.
RESERVATIONS OR QUESTIONS ABOUT AVAILABILITY?
Photo gallery: (click on the photos to enlarge or see all photos)
The Sacred Ibis
The Sacred Ibis is a very exotic bird in our region, which is not very often seen in Western Europe but originally escaped from a zoo in Brittany. It's normal habitat is in Greece and in the Middle East. We have already seen several groups (even groups with more than 20). Particularly impressive, because the adult birds, mainly white with bald black head and black wing ends are almost 70 cm high.
All the documentation ready at your disposal
We have of course all the documentation ready at your disposal. As well as an overview of which birds were seen where and when in our region. What kind of birds to expect where and in what season, you can see below. So for the real bird lovers there is nothing to miss.
RESERVATIONS OR QUESTIONS ABOUT AVAILABILITY?
Which species of birds can be seen in our area
Winter
Brent Goose
Wigeon
Grey Plover
Curlew
Sacred Ibis
Brent Goose
Shelduck
Pintail
Wigeon
Golden Plover
Grey Plover
Black-tailed Godwit
Bar-tailed Godwit
Spotted Redshank
Dunlin
Knot
Avocet
Summer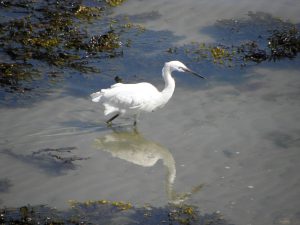 Little EgretShoveler
Montagu's Harrier
Marsh Harrier
Black Kite
Quail
Black-winged Stilt
Avocet
Kentish Plover
Black-tailed Godwit
Curlew
Short-toed Lark
Wood Lark
Tawny Pipit
Hoopoe
Pied Flycatcher
Bluethroat
Bonelli's Warbler
Sacred Ibis
Montagu's Harrier
Marsh Harrier
Garganey
Black-tailed Godwit
Black Tern
Migration

Kentish Plover
Spotted Redshank
Greenshank
Avocet
WimbrelRuff
Black-tailed Godwit
Bar-tailed Godwit
Little Stint
Golden Plover
Discover below our region with its many possibilities